Founded on principles of quality, service and trust, we keep our customers connected.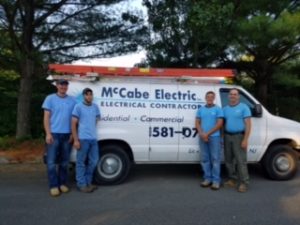 Owner Joseph McCabe started McCabe Electric in 2005 to serve the electrical needs of local homeowners and businesses. The business now serves customers throughout central New Jersey.
Quality really is a priority for our business and it shows in our workmanship, people and customer service.
Our professional staff of certified electricians has the experience to handle even the most complex projects – and they take pride in doing so.
Our culture is built on honesty and integrity so customers trust us to do what we promise each and every time.
Fully licensed and insured because quality work should also come with peace of mind.
McCabe Electric also partners with general contractors who depend on our electrical expertise and professionalism to serve their customers. We're proud to work with these quality contractors: Cornerstone Carpentry (Hopewell, NJ), Sal Curro (Hamilton, NJ), David Driver (Yardley, PA), BECO Kitchens and Baths (Morrisville, PA) and Herbert Diaz (Hamilton, NJ)
When you need an electrician, why not choose one that homeowners, businesses and general contractors recommend? Customer referrals are the secret behind our growth and something we never take for granted. So the next time you have an electrical project – think McCabe Electric.